HELPING CHILDREN COPE WITH DIVORCE
Seminar for Divorcing Parents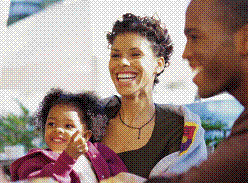 Presented by
The Fraser Counseling Center
203 Mary Lou Drive
Hinesville, Georgia 31313
Phone (912) 369-7777
NOTE: In any divorce in which custody of children under the age of 18 is at issue in the superior courts of the Atlantic Judicial Circuit of Georgia (including the superior courts of Bryan, Evans, Liberty, Long, McIntosh, and Tattnall counties), both parents must submit to the court a certificate of completion of the Seminar for Divorcing Parents before a final decree of divorce is granted.
---
A Judge Talks to Divorcing Parents
"Your children have come into this world because of the two of you. Perhaps you two made lousy choices as to whom you decided to be the other parent. If so, that is your problem and your fault. No matter what you think of the other party-or what your family thinks of the other party-these children are one half of each of you. Remember that, because every time you tell your child what an 'idiot' his father is, or what a 'fool' his mother is, or how bad the absent parent is, or what terrible things that person has done, you are telling the child half of him is bad. That is an unforgivable thing to do to a child. That is not love. That is possession. If you do that to your children, you will destroy them as surely as if you had cut them into pieces, because that is what you are doing to their emotions. I sincerely hope that you do not do that to your children. Think more about your children and less about yourselves, and make yours a selfless kind of love, not foolish or selfish, or your children will suffer."
Judge Michael Haas
District Court
Minnesota
Divorce is Recognized as a Very Stressful Experience
A divorce creates many changes in a young person's life. An old way of living is ending and there is anxiety that the future will be less loving.
Divorce for you, as a parent, also requires many adjustments, but, no matter what turmoil you have in your own life, you still have the responsibility to assist your children in their growth and development.
You can help your children meet the challenges that divorce brings by understanding through what they are experiencing. By knowing how youngsters feel about divorce and the normal reactions they have to it, you will be in a better position to give assistance.
It is hopeful that the divorcing seminar, "Helping Children Cope with Divorce", can help you and your children understand and adjust to the changes being experienced and that it will set the stage for future family growth.
Seminar Topics Include:
How families experience divorce
Typical reactions of children
Developmental needs of children
Skills that help children cope
Pitfalls to avoid
Parenting and communication skills
Seminar Location and Schedule
Hinesville:
Fraser Counseling Center
203 Mary Lou Drive (next to the Liberty County YMCA)
Hinesville, Georgia 31313
Phone: (912) 369-7777
1st Wednesday - 6:00 p.m. - 9:00 p.m. (excluding holidays)
1st Saturday - 9:00 a.m. - 12:00 p.m. (excluding holidays)
(Note: Schedule may change due to national holidays, so please call for confirmation of seminar dates and times).
Attendance
Sessions begin on time, so please arrive at least fifteen (15) minutes early to register and receive credit for your attendance.
Attendance is required of both parties in a divorce, separate maintenance, legitimation, change of custody and visitation action within 31 days of service of the divorce complaint upon the defendant.
Cost
Cost for the seminar is $45.00 per person, which is payable by cash or money order only.
The fee may be waived; however, waiver of the fee requires presentation of a verified affidavit of poverty to the Office of the Clerk of Superior Court of the county in which you are resident. The Clerk of the Superior Court must approve the affidavit before waiver of any fee. Click here for the form that must be completed if you are requesting a waiver of the program fee.
Child Care is Not Provided
Please do not bring children to the seminar.